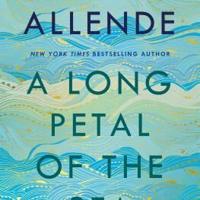 [ad_1]
At the start of the new year, the free Sawyer Library of Gloucester shared their list of "2021's Most Popular Books," with an author from Cape Ann in the mix.
With the pandemic continuing and temperatures falling, this list may be of interest to those who stay indoors and weather the winter – and are looking for suggested reading. The list is based on data from the most borrowed books in the library.
One of my favorites was on the list: "A Long Petal of the Sea" by Isabel Allende, a work of historical fiction, which takes its title from a line by Pablo Neruda, who described his homeland of Chile as a " long petal of sea and wine and snow. Neruda was more than a Nobel Prize for Literature. He was also a politician and diplomat, and through his efforts he saved thousands of Spaniards from death. He was given permission to charter a ship in France bound for Chile and filled it with Spanish refugees from French camps where many others perished as a result of the Spanish Civil War. The story shines with its magical realism, a talent for which Allende is known.
Library staff noted that residents read books that focus on various areas of the world when it comes to their fiction choices.
The most borrowed book of 2021 was Kristin Hannah's "The Four Winds", another work of historical fiction, this time set in the American prairies during the Great Depression.
Other great fictional picks include Lucy Foley's 'The Guest List', a contemporary murder mystery set on a remote Irish island; Brit Bennett's "The Vanishing Half", with its exploration of racial identity and bigotry in the segregated South; "All the devils are here", by Louise Penny about a "sinister plot" in Quebec; and "Klara and the Sun", a sci-fi romance set in a dystopian world written by the Japanese Kazuo Ishiguro.
"Of Gloucester's 25 most read titles, only two are non-fiction, revealing Gloucester's preference for a good story," library staff noted in a prepared statement.
The most popular non-fiction title was "Caste: The Origins of Our Discontent" by Isabel Wilkerson, a book on social stratification between races and classes in the United States. Wilkerson won the Pulitzer Prize for feature film writing in 1994 as Chicago bureau chief for the New York Times, making her the first African-American woman to win a Pulitzer Prize for journalism. Originally from Washington, DC, her parents were part of the Great Migration, "the mass movement she would write about," according to her website.
Other non-fiction choices are: "An Unimportant Woman: The Untold Story of the American Spy Who Helped Win World War II", by Sonia Purnell; "Niksen: embracing the Dutch art of doing nothing" by Olga Mecking, based on the principle that the Dutch are the happiest people in the world; and "Swimming to the Top of the Tide," by Cape Ann author Patricia Hanlon, who recounts her experiences swimming year-round in the New England Great Marsh, which stretches from Cape Ann to the south. -est of New Hampshire. Hanlon's book has been praised by Publishers Weekly and Kirkus Reviews, among others.
For those who wanted to know what children read, staff noted that the most popular young adult titles were those on school reading lists. These titles include "The Boy Who Harnessed the Wind" by William Kamkwamba from Malawi; "Grit: The Power of Passion and Perseverance," by Angela Duckworth; and delivers one of the "Mars" graphic novel series, by civil rights leader John Lewis and Andrew Aydin. Additionally, how-to books and self-help books were popular with young patrons, as was Amanda Gorman's spoken word poem, "The Hill We Climb," which she recited at the inauguration. by President Joe Biden.
For younger readers, staff noted that five of the top 15 books were titles from the "Diary of a Wimpy Kid" series by Jeff Kinney and titles from the "Dog Man" series by Dav Pilkey. Zeeta Elliot's titles in the magical series "The Dragon Thief" and "Dragons in a Bag", as well as Liz Flanagan's dragon-themed series "Legends of the Sky" were also popular.
More titles can be found at sawyerfreelibrary.org.
'Tell me a story'
The Cape Ann Museum presents the new program "Tell Me a Story: Your Life in Pictures", starting Thursday, January 6 from 3:30 pm to 4:30 pm in a virtual format; and continues on January 13, 20, 27 and February 3. The program is free and open to children aged 6 to 9. Registration is compulsory.
During the program, which explores storytelling in books and art, children will read a book chapter and explore similar stories found in the museum's collection. At the end of each book, participants will create their own work of art based on the themes. This month, the book chosen will be "Bea Garcia: my life in pictures" by Deborah Zemke.
Children will also learn how artists from the Folly Cove and Fitz Henry Lane galleries tell stories through their art. To register, visit https://www.capeannmuseum.org/events/tell-me-story-your-life-pictures.
Baseball's Color Barrier
The free Sawyer Library will host award-winning author and journalist Ted Reinstein on Saturday, January 8, from 2 p.m. to 4 p.m. when he talks about his latest book, "Before Brooklyn: The Unsung Heroes Who Helped Break Baseball's Color Barrier" at the library, located at 2 Dale Ave. in Gloucester. The book comes to life in countless detail, including highlighting the first black player in professional baseball, who was Moses Fleetwood Walker in 1884.
"For a while, integrated teams weren't that unusual. then, as segregation across the country tightened, exclusion of blacks from baseball quietly became the norm, and the battle for integration started again, "according to a press release.
Reinstein is known for his work on the television series "Chronicle", but he is also the author of three books, including "New England Notebook: One Reporter, Six States, Uncommon Stories", which was selected by National Geographic Traveler in 2014 as a "Best Choice".
The event is free. Registration is not required. Copies of the book will be available. Face masks are compulsory. For more information, visit sawyerfreelibrary.org or call 978-325-5500.
Around Cape Ann is a column devoted to events taking place in Cape Ann and to Cape Ann artists performing elsewhere. If you would like to submit an article, contact reporter Gail McCarthy at 978-675-2706 or gmccarthy@gloucestertimes.com at least two weeks in advance.
[ad_2]