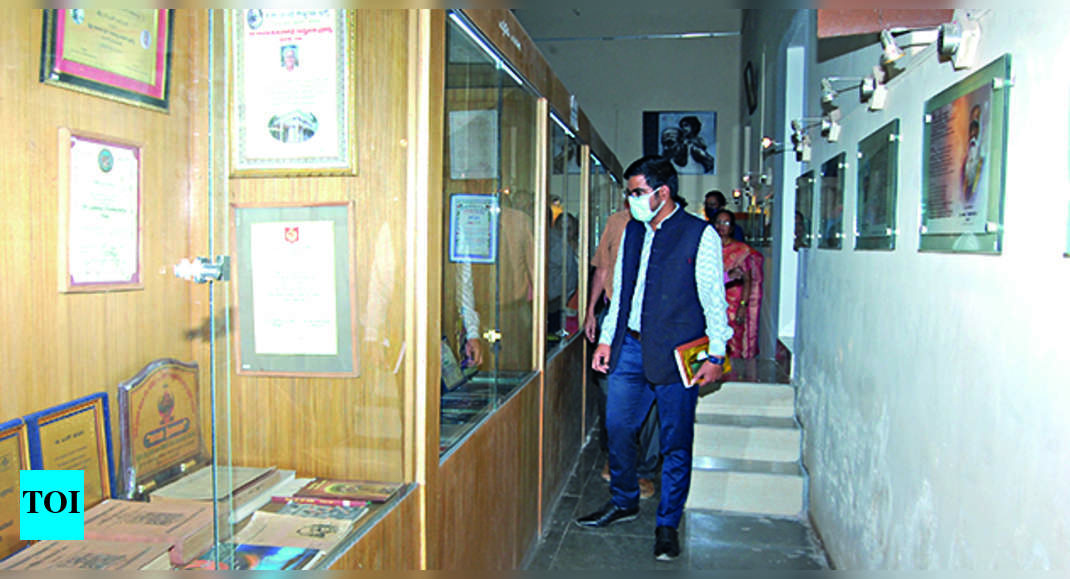 Dharwad: The Hubballi-Dharwad Municipal Corporation has passed a resolution to take over Intach Museum from HDMC office premises in Dharwad for maintenance and government approval is awaited, said Dharwad ZP CEO Suresh Itnal.
Speaking at the 90th birth anniversary program of the late NP Bhat, the museum's founder here on Wednesday, Itnal said the museum is an asset to the culturally rich Dharwad and deserves all support.
HDMC co-curator Madhav Gitte has secured all the assistance of the civic body for the upkeep and development of the museum.
Prof. Yashoda Bhat, wife of NP Bhat, explained the connection his family had with Dharwad and Bhat's efforts to establish the museum to showcase Dharwad's rich heritage. Writer Shamsundar Bidarkundi, who was presiding over the ceremony, suggested that the museum should also collect and display books written by famous writers from Dharwad, along with a brief introduction to the writer. Shaila Karagudari participated. Sumangala Bhat offered a vote of thanks.
The museum
For those who want to learn more about the rich heritage of the region in general and Dharwad in particular, the Indian National Trust for Art and Cultural Heritage (Intach) museum located within the grounds of the Municipal Corporation office in Dharwad is the best place that will provide all information.
The museum, open to visitors from 11 a.m. to 2 p.m. Monday to Friday, houses
valuable stamps
, coins, manuscripts, original certificates of many eminent writers and their precious objects, paintings by many local painters as well as paintings many painters of all Indian renown. It is a treasure trove of photographs of several old buildings in Dharwad and information on the achievements of many writers.
One can find reprints of paintings by Raja Ravi Varma, manuscripts by writers like Raa Ha Deshpande, VK Gokak, SL Bhyrappa, Sham Baa Joshi, Da Raa Bendre and details of Hindustani classical musicians Pandit Bhimsen Joshi, Mallikarjun Mansur, Gangubai Hanagal, Basavaraj Rajguru, stone inscriptions on Dharwad and many other valuable antiquities. It also has a bust size of NP Bhat donated by Lt. Gen. (Retired) SC Sardeshpande.