Views) :
While external debt sustainability is a condition for obtaining IMF assistance, the immediate reduction of the budget deficit and its gradual reduction are essential for economic stabilization and economic recovery.
IMF agreement
Although a staff-level agreement has been reached with the International Monetary Fund (IMF) to secure an Extended Financing Facility (EFF) of $2.9 billion over the next four years, this will only be provided only after external debt sustainability has been demonstrated.
Debt sustainability
This external debt sustainability condition must be met in order to obtain the approval of the PAF by the IMF's Executive Board. Reaching an agreement with the country's foreign creditors on the sustainability of external debt to obtain the first tranche is difficult.
China
An agreement among creditors on debt restructuring appears difficult due to China's reluctance to restructure its outstanding debt. This is due to its principle of non-restructuring of loans. China is however ready to help us with other loans. Hopefully a way will be found to circumvent this obstacle.
Budget deficit
The immediate reduction of the budget deficit and its gradual reduction over the next few years are essential for economic stabilization and economic recovery. This must be achieved through both increased taxation and reduced spending, which many will oppose.
Opposition
Insofar as the government, pragmatic economists and enlightened opinion, are aware that the bailout of the IMF is imperative to solve the current economic crisis, several political parties and a large part of the population oppose asking for help from the IMF in because of the conditions attached to these loans.
No alternative
Although those who oppose an IMF bailout have no pragmatic alternative, they remain opposed to obtaining an IMF loan facility. This opposing position is politically popular, as the IMF is portrayed as an institution that imposes conditions that impose hardship on people.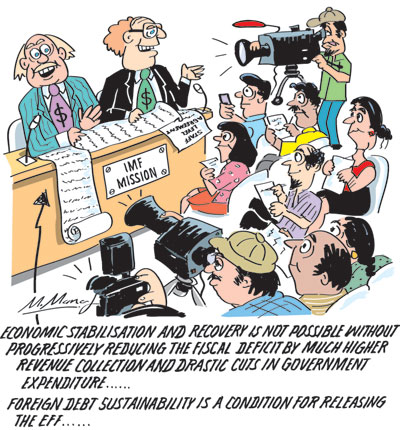 Price increase
For example, there is opposition to the IMF condition that imported products, such as petrol, diesel, gas and wheat flour, must be sold at cost. Therefore, when international prices rise and the rupee depreciates, prices rise sharply. Opposing such a price policy is popular.
Privatization
Another clear example of such opposition is the privatization of public enterprises. Political parties, trade unions, a majority of parliamentarians and the people are firmly opposed to the privatization of a large number of loss-making public enterprises.
Political parties
As highlighted in previous columns, Sri Lanka Podujana Peramuna (SLPP), the ruling party which controls a comfortable majority in Parliament, is opposed to privatization. Paradoxically, it is the main opposition party, the Samagi Jana Balawegaya (SJB), which may be in favor of privatization.
Other parts
Most political parties oppose the privatization of public enterprises and present it as a sale of the people's assets. The burden of these loss-making companies on the people is never mentioned.
An unrealistic prospect
Parties that have not been in power conveniently say that when they come to power, they will transform state enterprises into for-profit enterprises generating revenue for the government.
Budget deficit
The immediate reduction of the budget deficit and its progressive reduction in the coming years are vital for economic stabilization and for the economic recovery of the island. This objective must be achieved both by increasing revenue and by reducing expenditure.
Loss-making state enterprises
Eliminating or sharply reducing public enterprise losses is an important means of reducing expenditure. Rationalization and reduction of public spending are needed immediately.
Strategy
Fiscal consolidation or the reduction of the budget or the budget deficit must go through a dual strategy of increasing revenue and drastically reducing expenditure on the other hand. Both strategies would be politically unpopular and administratively difficult. However, they are imperative.
Crucial
Fiscal consolidation is the most important, difficult and ambitious task of the budget that will be presented by the government in November. This is the most difficult task and politically the most difficult.
Waiting
The expectation of a reduction in the budget deficit to 5.6% of GDP must be achieved by increasing revenues, recoveries and limiting reckless spending cuts. The central task of the next budget for 2023, which should be presented in November, is to drastically reduce the budget deficit.
In conclusion
The gradual reduction of budget deficits is imperative for the recovery, recovery, reconstruction and development of the economy. Quite apart from the fact that fiscal consolidation is a condition for IMF assistance, it is a prerequisite for economic stability and growth. Unfortunately, it is also the most difficult and politically difficult task.
The immediate reduction of the budget deficit and its gradual reduction over the next few years are vital for economic stabilization and growth. Hopefully, the budget deficit for 2022 will be reduced to 9.6% of GDP thanks to spending revisions and increased revenues resulting from the proposed tax measures.
Next Sunday
Next Sunday's column will discuss a pragmatic strategy to reduce the budget deficit through a progressive and efficient tax system to achieve the government's target of 5.3% of GDP in 2025.
Buying or selling electronic devices has never been easier with the help of Hitad.lk! At Hitad.lk, we listen to your needs and strive to provide you with the perfect electronics listings; because we have lists for almost everything! Find your favorite electronic items for sale on Hitad.lk today!