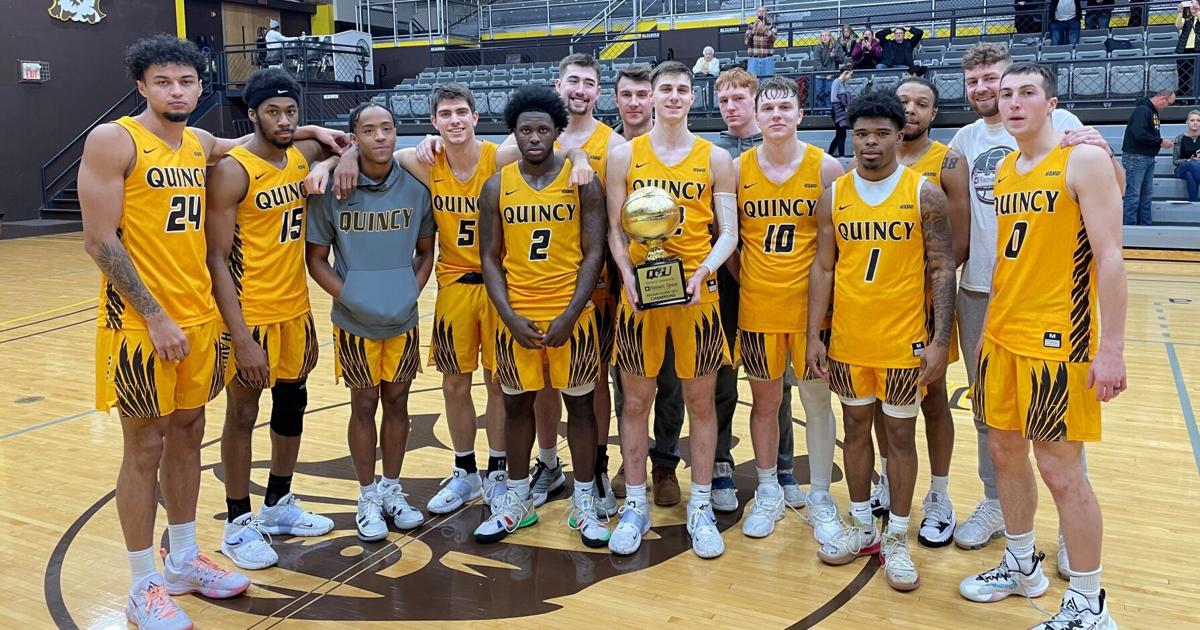 QUINCY – University of Quincy coach Ryan Hellenthal was worried.
Playing their fourth game in six days, the Hawks fell behind late in Sunday's game after leading most of the way.
"I told my assistant coaches that I thought we could hit the wall," Hellenthal said.
Instead, the Hawks stepped on the accelerator and crossed the finish line to claim their biggest college basketball victory of the season.
Quincy went on a 20-9 run to end the game and claim an impressive 91-81 victory over a strong University of Davenport side at Pepsi Arena.
"Our guys dug deep and got it right when we needed it," Hellenthal said. "And we made some key stops defensively throughout the stretch. You need guys to step up and make plays in a tight game like this. And our guys did just that.
The Hawks finished 2-0 over the weekend to win the title at the Hansen-Spear Funeral Home Classic. Quincy won his third straight game while dropping to 7-4 on aggregate.
QU second-year student Nate Shockey, who scored 29 points, his career best record, was named tournament MVP. He scored six 3-pointers and added five rebounds on Sunday.
"We struggled with a lot of adversity in this game," said Shockey. "We went down early and came back and then fell back in the second half. We just kept working and kept pushing. And we were able to achieve a difficult victory against a good team. "
Teammate Mark Bradshaw Jr. added 13 points and three boards. And also was strong defensively.
"It was a very important victory against a very good team," said Bradshaw. "We've started slowly this season, but we're really getting closer. It's a special group of guys. We have a lot of talent in this team. We can win a championship – we just have to follow the game plan and keep working hard. "
Quincy fell behind early in Sunday afternoon's game, leading 13-3 against the talented and taller Panthers.
But the Hawks collapsed before Shockey warmed up at long range.
He buried four triples in four minutes to take Quincy to a 32-25 lead.
The Hawks took a 38-31 halftime lead, with Shockey scoring 16 points in the first 20 minutes and point guard Jalen Stamps adding 11 points off the bench.
Quincy increased his lead to nine early in the second half before Davenport returned.
The Panthers took their first lead since midway through the first half when Jarrin Randall scored a 3-pointer.
This gave Davenport a 72-71 lead with 6:04 to go.
The Hawks came back right away, eventually taking the lead for good when Paul Zilinskas hooked up on a corner trey.
Junior Malik Hardmon took over for QU after that. He made two free throws before hitting a baseline jumper and converting to a shrewd practice toward the cup.
Shockey followed with two free throws to bring Quincy to 84-75 with 2:50 left.
The Hawks drained 7 of 8 free throws down the stretch to score the win.
Hardmon finished with 22 points and five boards.
Stamps continued his superb game with 13 points. Guard Jamaurie Coakley had eight assists, seven rebounds and four steals for QU. Zilinskas finished with nine points.
Quincy is now taking a short vacation break before returning to the field on Dec. 30 at home against Missouri Valley College.
"Something special is brewing with this team," said Hellenthal. "I am proud of the way they reacted to adversity during the first half of the year. We've had guys with COVID. We took a trip to Alaska. A lot has happened with this group.
"We are starting to come together. We still have a long way to go and we need to keep growing and improving. But I like where this group is heading for the break.