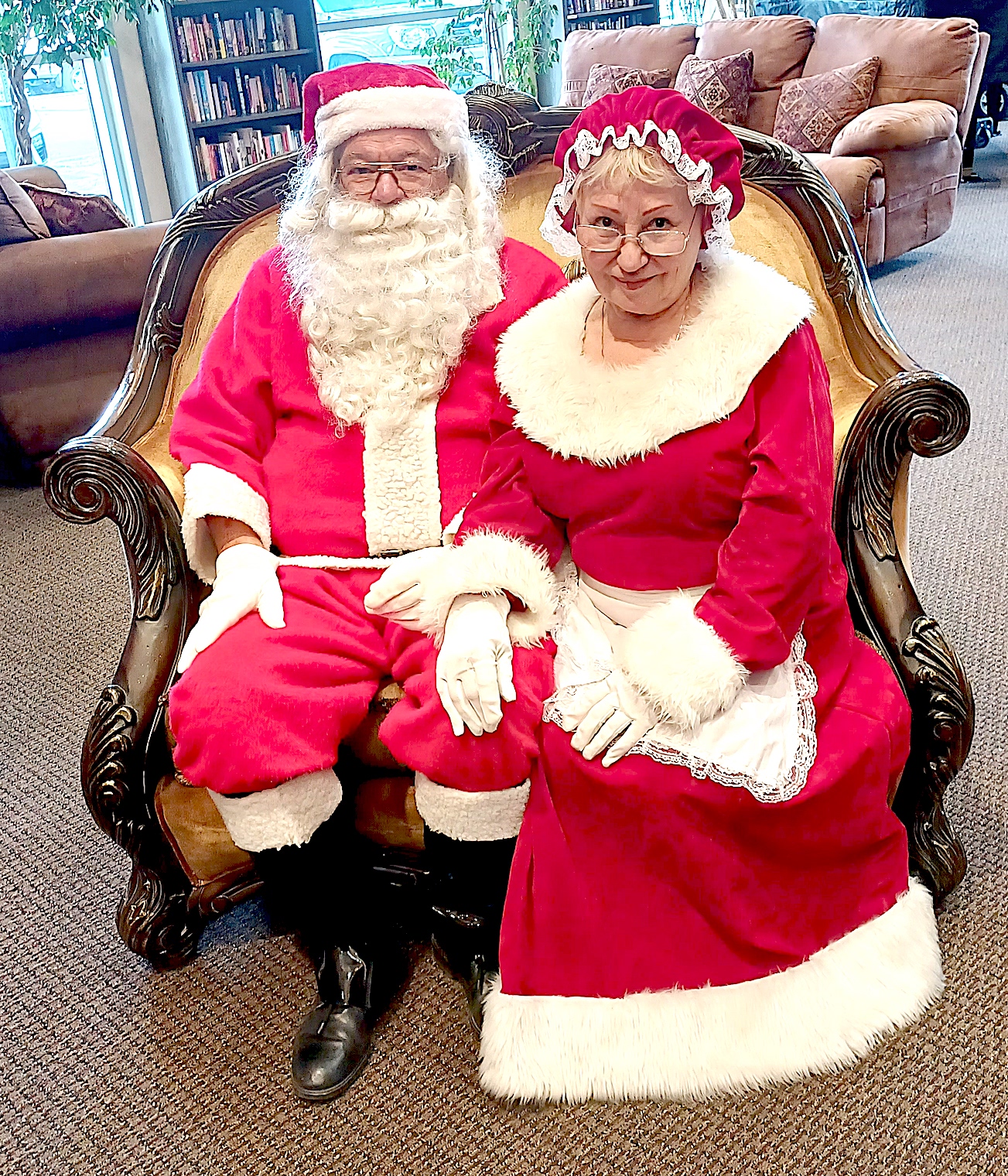 As small business owners themselves, Mr. and Mrs. Claus will show up in Gardnerville on Saturday. Here they were visiting the Young at Heart Craft Fair. Photo by Kathy Schuman
For the second year, Mr. & Mrs. Santa is helping promote Small Business Saturday this weekend with a toy drive at Brown Bear Design and Gadzooks!
Santa Claus will be handing out candy canes and will be available for photos from 10 a.m. in front of Gadzooks!
Clauses will alternate between locations for pictures and music performed by Ms. Claus throughout the day.
Santa Claus said he would donate the toys to his Salvation Army helpers, where they will be delivered to families in need over the holidays.
Look for him picking up toys or walking along Main Street paying tribute to small business on Saturday participates.
"I'm really looking forward to seeing the kids and hope all is well as the season approaches," Santa Claus said.
Small Business Saturday is a nationally recognized day dedicated to encouraging consumers to support local businesses. In the Carson Valley, the Chamber of Commerce and Main Street Gardnerville are supporting the local store effort.
"Our small businesses are looking forward to a prosperous holiday season after the past two years," said Carson Valley Chamber of Commerce Director Alicia Main. "Start your holiday shopping by supporting our local small businesses."
There are 32 businesses in Douglas County on the Trade Route.
To participate, shoppers receive a Chamber of Commerce passport to take with them on their shopping spree.
Businesses will stamp the passport and once completed, buyers will return it to the Chamber of Commerce for a price.
For more information, visit https://www.carsonvalleynv.org/ or call 775-782-8144.
Participating companies:
Sage: mind, body and soul
Especially for you
Mad Dogs Café at Woodfords Station
East Fork Gallery
Bellator LLC Firearms Training
House in Genoa
Distinct Interiors Window Coverings
See the sweets
Max's Pet Supplies & Gifts
The pink rose
Battle Born Wine Whiskey
heart strings
Chief Sierra
FISH
Cafe on Main
Cottonwood Creek
By the road
Chicago Mikes
brown bear design
Joyce's Jewelry
Carson Valley Museum and Cultural Center Bookstore
Gadzook!
A wild flower
Anderson Cattle Company
Carson Valley Golf Course
chocolate shop
DST Cafe
fresh ideas
The UPS store
Pop-up real estate market
Carson Valley Children
Just a drop
Restyle